METAL CRUSADERS Distribution CDs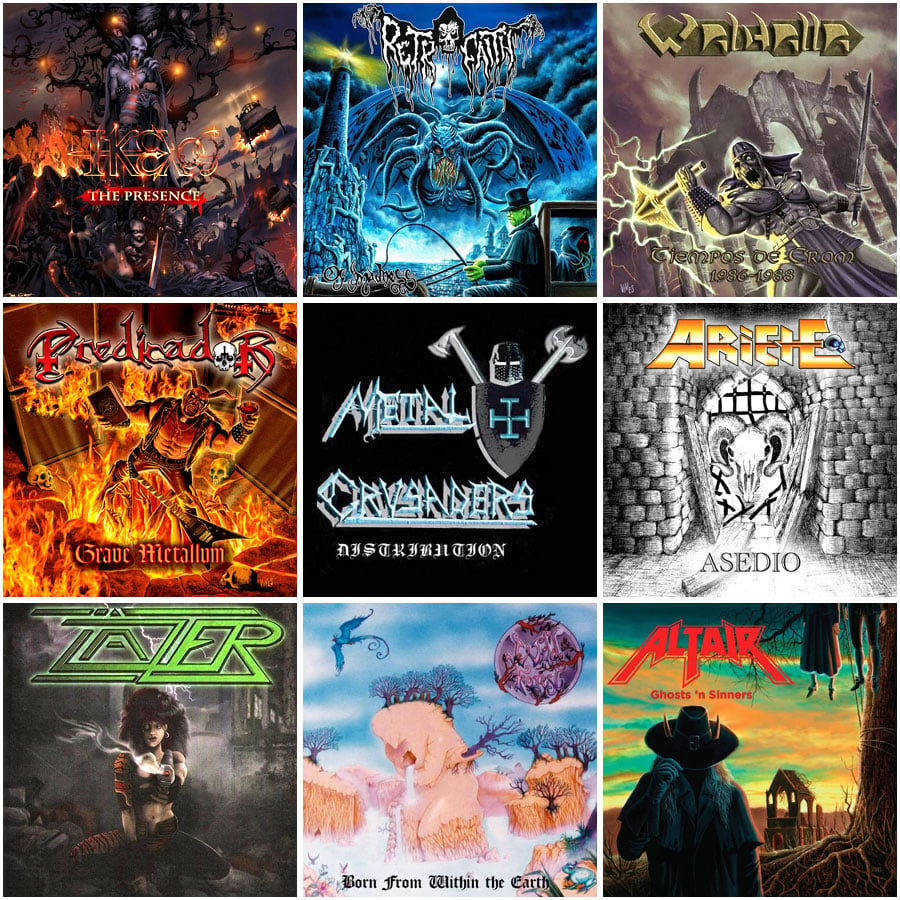 Metal Crusaders are Spanish Label and Distro, specializing in classic 80s Spanish and Latin American bands, as well as selected current NWOTHM ones
Available titles are:
4ESTIGMA - In Memorian CD
- classic metal for fans of Iron Maiden, Angra, Hammerfall, etc.
ALTAIR - Ghosts 'n Sinners CD
- crunchy classic metal with vintage NWOBHM vibe for fans of SATAN, ANGEL WITCH, CLOVEN HOOF, etc.
AQUELARRE - Noche De Brujas CD
- veteran band from Barcelona, founded back in 1984. This is their one and only album from 1992, officially released for first time with 4 bonuses from 1991. High octane power/speed metal with wild high-pitched vocals. Think of Judas Priest (Painkiller circa) with John Cyriis, Nasty Ronnie in his prime, or King Diamond on vocals - awesome stuff!
ARIETE - Asedio EP CD
- epic NWOTHM from Madrid, sadly already defunct. This release is labeled as an EP, although it has 6 songs and clocks at 29:40 minutes playing time.
CRIENIUM - 1996-1999: Antes de las sombras... CD
- late 90's heavy metal from Madrid. Compilation of their 1996-1999 demos, live and unreleased rarities. 16 songs in total.
IKELOS - The Presence CD
- Epic power metal, inspired by the myths and legends from the land of the Gods! Contains Demo 2013 as bonus. Recommended!
LAZER - Lazer CD
- speed metal grenade from Spain. Sadly, the band seem to have gone defunct after Diego Parra's untimely demise earlier this year, RIP!
PREDICADOR - Grave Metallum CD
- Killer epic NWOTHM with mystical occult atmosphere. All orders will also receive their new album "In Tenebris" as free bonus (released by the label on pro-printed CDRs and thus not suitable for selling...)
RAZORBLADE - Inferno CD
- Speed metal from Spain
RETROFAITH - ...Of Madness CD
- Thrash metal darkness from Madrid, inspired by H.P. Lovecraft
SHERATAN - Mundo sin Perdon CD
- Killer power/speed metal from Spain. Unfortunately the CDs show slight marks, hence the "Used" discount price of $7.99!
WALHALLA - Tiempos de Crom 1986-1988 CD
- cult 80's heavy/power metal from Spain. Started as SATAN in 1985, then became CROM, before settling on the name WALHALLa in 1986. This is an anthology CD with all their demos from 1986 through 1988.
WILD FOREST - Born from Within the Earth CD
- Power-prog from Spain, previously known as CLAUSOR (Demo 1988) and JERUSALEM (Rehearsal 1990) before becoming WILD FOREST (demo 1993/95) - all those demos are included on this CD. Recommended for fans of SAGE MERIDIEN, FATES WARNING (Arch era), CRIMSON GLORY, early QUEENSRYCHE, ZION'S ABYSS, KINGSBANE, etc.