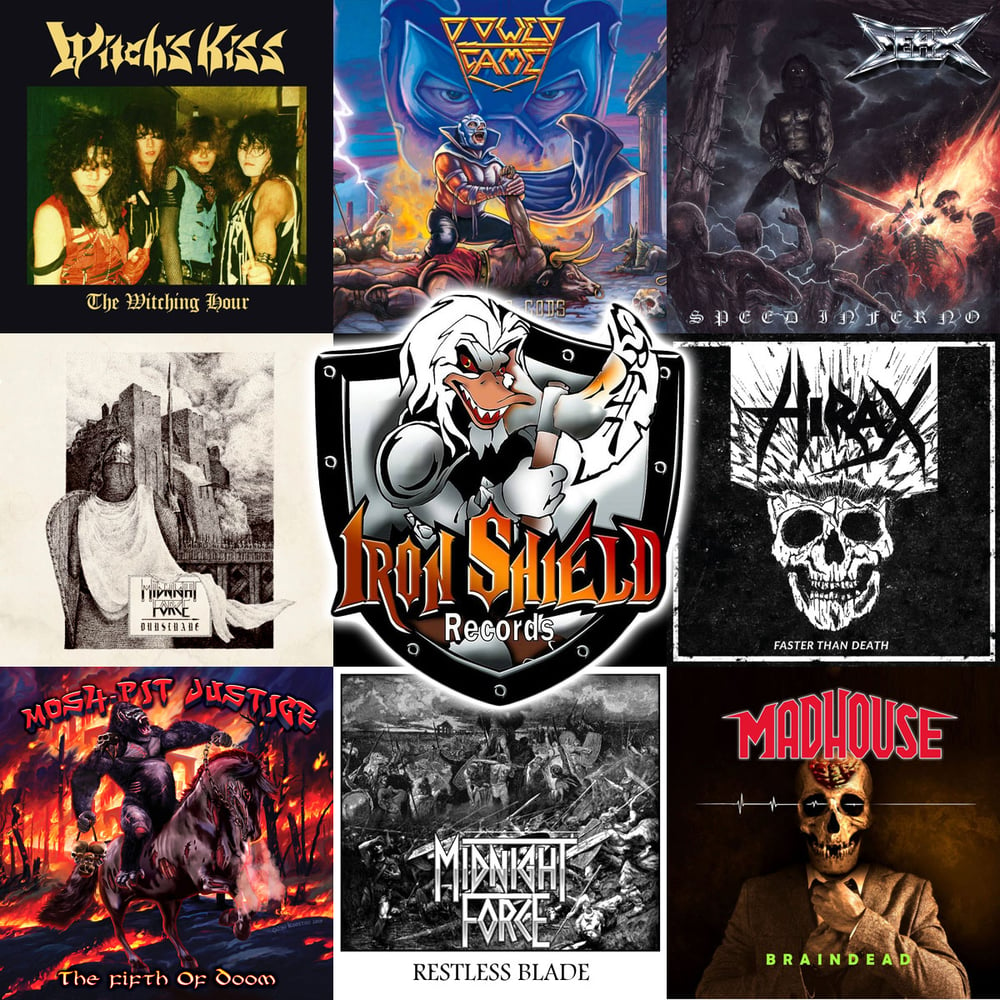 German label specializing in classic power/speed/thrash metal releases.
---
ANGEL MARTYR - Nothing Louder Than Silence CD
Don't let the artwork mislead you as it did to me, making me think of doom/death/extreme metal. There's nothing of this here - this is a top-notch classic power metal with clean soaring vocals in the vein of early JAG PANZER, OMEN, ATTACKER, and so on.
---
AXE STEELER - On The Run CD
NWOTHM
---
BITCHHAMMER - Offenders of the Faith CD
Blackened thrash metal from Germany
---
BLACK MASS - Warlust CD
New Wave of Old School Thrash metal from Boston, Massachusetts in the best 80s Teutonic traditions. For fans of DESTRUCTION, KREATOR, NECRONOMICON, VECTOM, EXUMER, DARKNESS, etc.
---
CRIMSON DAY - Order of the Shadows CD
NWOTHM from Finland
---
EXPLORER - Still Alive… And Now? CD
Speed metal frenzy from Italy.
---
EXXPERIOR - Escalating Conflics CD
Progressive techno-thrash from Germany. Thinking metal for the open-minded. If you like bands such as MEKONG DELTA, SIEGES EVEN, SORE PLEXUS, CALHOUN CONQUER, ASPID, DEPRESSIVE AGE, END AMEN, WATCHTOWER, you should check this out.
---
FATAL EMBRACE - Slaughter to Survive CD
Classic Old School thrash metal from Germany. If EXODUS and ACCUSER had a child, that would be it.
---
FIRST AID - Nursed CD
Yet another New Wave of Old School Thrash Metal from Germany. Must be something in te water over there. For fans of RUMBLE MILITIA, VELlOCET, DARKNESS, etc.
---
GRIM JUSTICE - Justice in the Night CD
Pretty decent female-fronted NWOTHM from Austria
---
HIRAX - Faster Than Death CD
9 Song Rehearsal Demo CD, mastered by producer Bill Metoyer, limited to 500. Comes with sticker.
---
LESSON IN VIOLENCE - The Thrashfall Of Mankind CD
Named after the cult song by EXODUS, so you know what to expect.
---
MADHOUSE - Braindead CD
Veteran German heavy/power metal combo, founded way back in 1986 under the name Erection before changing to Madhouse in 1987. This is their latest album, still going strong!
---
MIDNIGHT FORCE - Dunsinane CD
Retro epic true metal nostlagia from Glasgow, Scotland, paying homage to the glorious 80s and everything NWOBHM
---
MIDNIGHT FORCE - Restless Blade CD
Retro epic true metal nostlagia from Glasgow, Scotland, paying homage to the glorious 80s and everything NWOBHM. For fans of DIAMOND HEAD, SAXON, TALES OF MEDUSA.
---
MOSH-PIT JUSTICE - The Fifth of Doom CD
Fifth offering by the veteran thrash band, paying homage to 80s Bay Area scene. For fans of FORBIDDEN, TESTAMEN, EXODUS, DEFIANCE, etc.
---
NATIONAL NAPALM SYNDICATE - Time is the Fire CD
Classic power/thrash metal from Finland, established back in 1986 and still going strong. Reminds me somewhat of MORGANA LEFAY, and more thrashier acts such as ROSICRUCIAN or MORTAL SIN, etc.
---
POWERGAME - Masquerade CD
NWOTHM from Germany
---
POWERGAME - Slaying Gods CD
The latest album by the power metal combo from Bielefeld, Germany. Epic as f*ck! Every epic power metal fan, worshipping at the altar of VIRGIN STEELE, VARLORD, VALIDOR, ETERNAL CHAMPION needs this.
---
RAVEN - Party Killers CD
NWOBHM legends. Initially only available on pro-printed CDR as free bonus for Kickstarter backers on the Extermination album funding campaign. Now for first time on silverpressed cds, limited to 600 copies only.
---
REACTORY - Collapse To Come CD
Oldschool Teutonic thrash from Berlin for fans of early KREATOR (Pleasure to Kill circa).
---
SATANICA - Resurrection of Devil's Spirit CD
Japanese combo, rising on the ashes of the cult 80's band WITCH's KISS and delivering occult power/speed metal with distinct NWOBHM influences.
---
SEAX - Speed Inferno CD
Speed metal madness from Massachusetts for fans of 80's era AGENT STEEL, BLESSED DEATH, HAVE MERCY, TYRANT'S REIGN, early DESTRUCTION.
---
SPACE PARASITES - The Spellbound Witch CD
Female fronted NWOTHM from Germany, paying homage to the 80s masters of dark romantic. Absolutely magnificent energetic, crunchy, hook-laden heavy/power metal in the best Teutonic traditions from the 80s, topped with the most amazing raspy vocals - exactly as I've ever imagined a proper witch voice would sound! Well done boys and girls, come and join Stormspell for your next release, please!
HIGHLY recommended, for fans of HEADHUNTER (Parody of Life circa), ACCEPT/early U.D.O., WITCHBOUND
---
STARBORN - Savage Peace CD
Epic power/speed metal from United Kingdom, reminischent of NEW EDEN, CRESCENT SHIELD, DESTNY'S END, HELSTAR, etc.
---
WHITE MANTIS - Sacrifice Your Future CD
Technical and quirky furious prog-thrash grom Germany. Think of VOIVOD (Killing Technology circa) on steroids! Criminally underrated stuff!
---
WITCH'S KISS - The Witching Hour CD
Arcane 80's metal from Japan. This is an anthology release featuring their two and only demos from 1985 and 1986. A must for 80s demo metal collectors.
---
XENOFANES - Pissing in the Holy Grail CD
Raw thrash metal from Sweden for fans of DEATHWITCH, SWORDMASTER, MIDVINTER, BEWITCHED, DISSECTION, etc.