$5 CHEAP Distro CDs CLEARANCE SALE #2 (Added 03/03/20)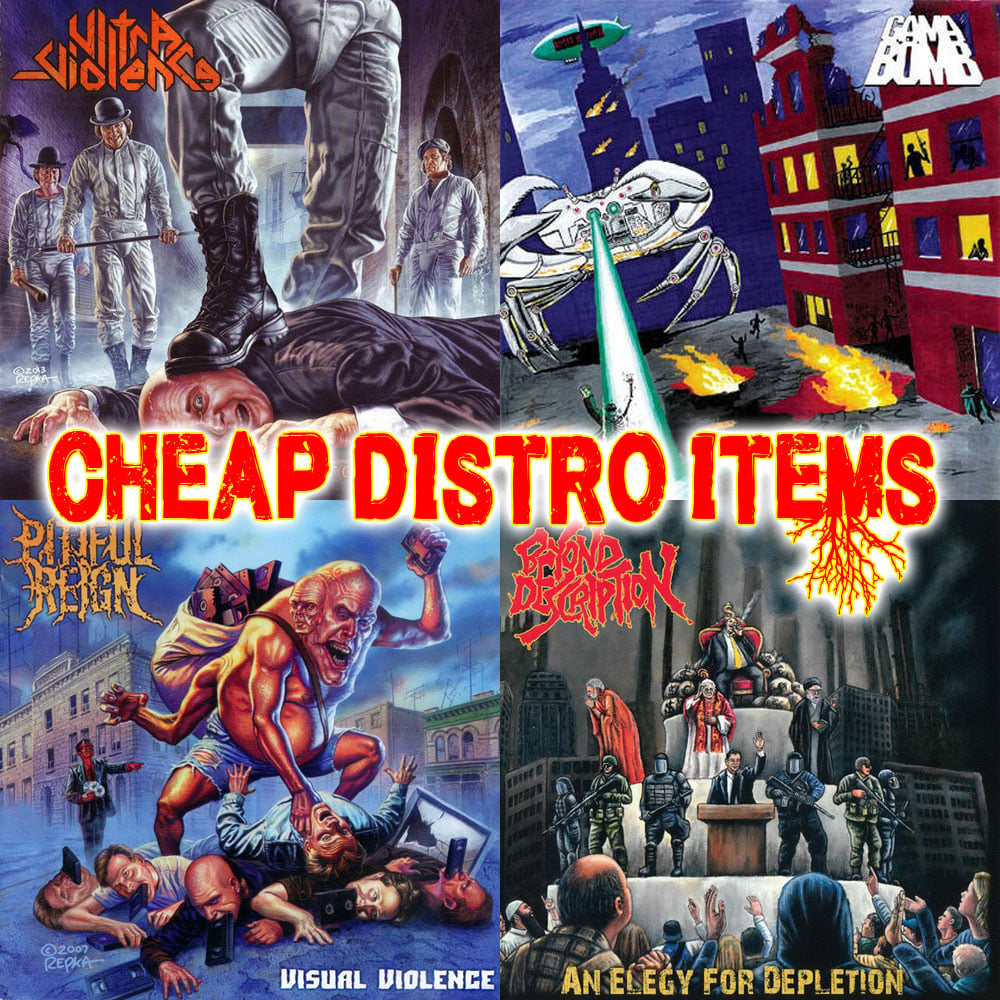 FLASH SALE will start on March 3rd, 2020: for a limited time EVERYTHING in this section will be FIVE BUCKS or less - take it now, or cry later :)
Bunch of various distro items I've generated during the years via trades with fellow labels from all over the world. Some clunkers, but also some hidden gems already Out Of Print and getting Hard To Find.
Bunch of Punishment 18 Records releases in this section among others. I need to clean space in my storage, so my loss is your gain!
HINT: Check PREMATORY if you like fast-paced technical thrash with a punch:
Available titles are:
ABSINTHIUM - One For the Road CD
ACHERON - The Final Conflict: Last Days of God CD
ANCIENT DOME - Perception of This World CD
AZRATH 11 - Ov Tentacles and Spirals CD
BACKWATER - Take Extreme Forms CD
BEJELIT - You Die and I... CD
BEYOND DESCRIPTION - An Elegy For Depletion CD
CATASTROPHE - Paradox CD
DEAD HEAD - Depression Tank CD
DEATHHAMMER - Forever Ripping Fast CD
DISASTER - Blasphemy Attack CD
DRUNKARD - Like Sin Explode CD
EXPLORER - Shout in the Fog CD
GAMA BOMB - Survival of the Fastest CD
GRAI - O Zemle Rodnoy CD
HARLOT - Origin CD
HELL'S THRASH HORSEMEN - Till Violence CD
HELLSTORM - Into the Mouth of a Dead Reign CD
HIGHLORD - The Warning After CD
MIDNIGHT CHASER - Lion's Choice CD
MANZER - Light of the Wreckers CD
METALLIC ASS - Agriculture Thrash CD
NOCTURNAL RITES - Lost in Time: The Early Years CD
PENTHAGON - Penthagon CD
PERVERSIFIER - Perverting the Masses CD
PITIFUL REIGN - Visual Violence CD
PREMATORY - Corrupting Influence CD
QUINTESSENCE - Le Bourreau De Tiffauges CD
SOCIAL BLACK YELLING - Naluri Pembunuh CD
STONE MAGNUM - From Time... To Eternity 2CD
THE WIZAR'D - Pathways Into Darkness CD
ULTRA VIOLENCE - Privilege to Overcome CD
VANDAMNE - Nightcrimes CD
VERMIN - Plunge Into Oblivion CD
VEXED - Void MMXII CD
WOSLOM - Evolustruction CD
WRATHSKELLER - Eve of the End CD
Use the pull-down menu to select the title you want to add to your cart.